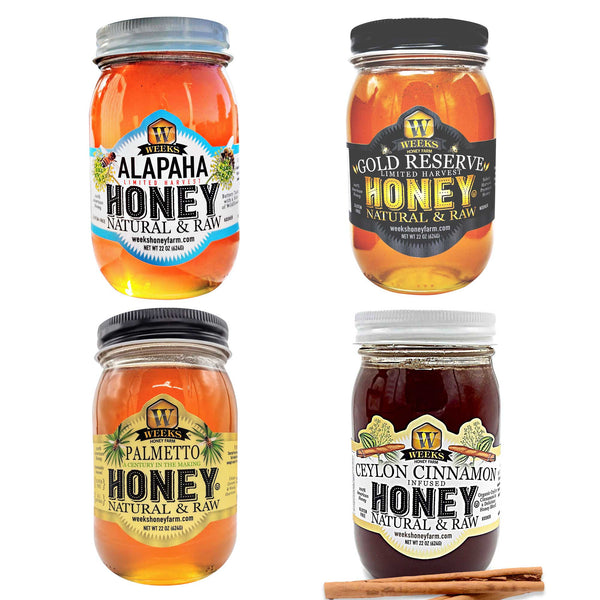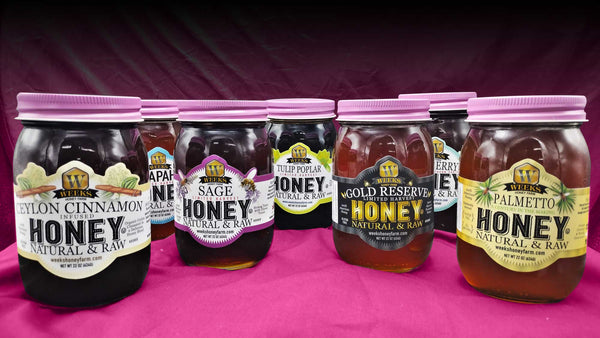 Get a taste of all our best Weeks Honey Farm sellers! Special offer for a limited time only! 

PALMETTO HONEY
Weeks Monofloral Palmetto Honey, has a light amber tone. It is derived from the Wild Palmetto Plant. Always 100% Natural, Pure, Raw Honey- Never Cooked. Product of USA. This is a Kosher, Gluten-Free Product
100% PURE: Unfiltered Raw Palmetto honey has a Mild Flavor 
100% AMERICAN: Harvested form US Beekeepers in South Georgia and North Florida, no added ingredients, or imported honeys guaranteed
EXCELLENT: Used in Naturally, Sauces, Marinades, Baking
ALAPAHA HONEY
Sourced from the beautiful banks of the Alapaha River in South Georgia, this pure honey contains a Natural Blend of Tupelo and Wildflower. The smooth taste is a one-of-a-kind delight found only in Weeks Alapaha Honey. Due to reduced habitat this honey is a very limited variety.
Natural and Raw Tupelo (75% +/-) and Wildflower Honey

Smooth Buttery Taste with a Mild Essence of Wildflower
Not Pasteurized
No Additives, No Imports
GOLD RESERVE HONEY
A premium, beautiful grade raw honey. Selected by  Ray Crosby himself, this honey would have normally been kept back for himself and his family. He has decided to offer it to you -and oh what a delight it is! A very mild honey, with fresh fruity under tones. Super sweet and intoxicating to look at! We don't think we have seen a prettier honey in a long time. Get yours now, it is a very limited harvest.
Only available at our location and on www.weekshoneyfarm.com.
Harvested locally at our family farm in Omega, Georgia. USA.
CEYLON CINNAMON HONEY
Our super-rich Ceylon Cinnamon Infused Honey is an amazing product whose taste will have you licking the spoon! Made with true Ceylon Cinnamon, this All-Natural, and Raw Honey product will become a staple of your pantry. There are literally limitless uses for this healthy superfood. Do your research on Ceylon Cinnamon and the added benefits of combining it with raw honey. You will be astounded.
We love this product on apples, in granola, as well as a natural sweetener in coffee, tea, and chai on the farm. Let us know how you like it and send us a photo of the recipe you used! If we use it in an ad we will be sure to send you a gift.
Certified Kosher.