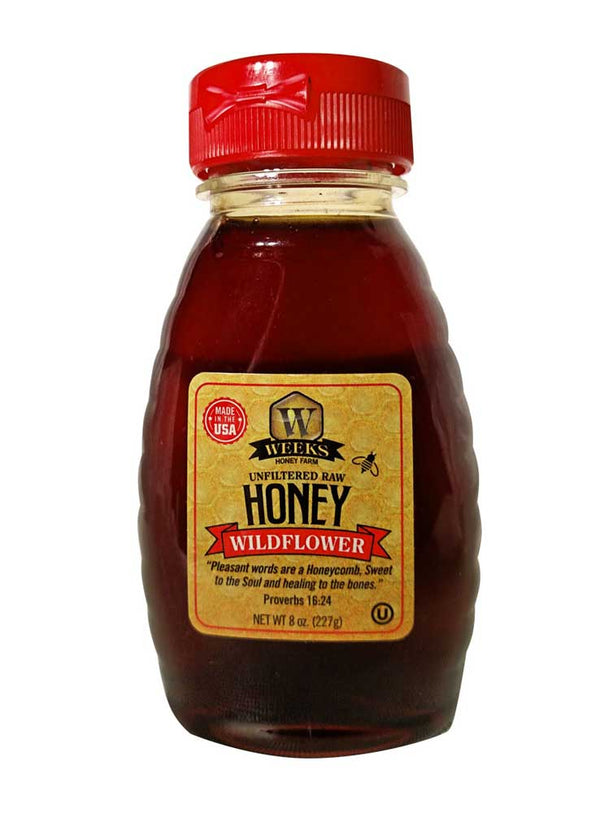 This has kept our family free of colds and flu for 20 months now. We love it! Before my daughter 6 years old started taking this she would pick up EVERYTHING each kid would bring to school. She had so many ear infections they were talking about putting tubes in her ears. She has been in perfect health since taking one spoonful a day. Not one sniffle!
Natural Immune Support, Make your own Super Powerful Elderberry Syrup at home, Just add Weeks Natural Raw Honey (included).


Elderberry is a traditional natural immune booster. This recipe includes the added benefits of Goji Berries, as well as several additional immune-boosting herbs. Making your own syrup is a fantastic way to save money and keep your family well. It is fragrant, sweet, and your kids will love it. This kit contains enough to make 24 Ounces+ of syrup when you add your own Weeks Honey. We are including All-American, Raw, Natural Honey FREE (Honey may vary).

Weeks honey Farm has partnered with Noelle's Naturals to provide the most natural, healthy elderberry syrup product we can to give you the healthy life you want. Use this DIY syrup kit to increase your immune system this cold season. Read more about this product below:
Noelle's Naturals product line is all natural, 95% organic ingredients, aluminum free, paraben free, SLS free and non-GMO. Finally, all natural personal care products that really work- without all the harmful ingredients! With Noelle's Naturals you can rest assured that you will always find healthy, effective, trustworthy products. All of her products have been born out of a personal need in her household.


Includes full instructions and FREE Brew Bag! Makes 24oz or more!

Organic Elderberry
Organic Goji Berries
Organic Echinacea
Organic Astragalus
Organic Rose Hips
Organic Cloves
Organic Ginger
Organic Cinnamon
10 Ounce

PLUS 8 OUNCE WEEKS RAW HONEY

Watch the Instructional Video Below:
WATCH THE VIDEO