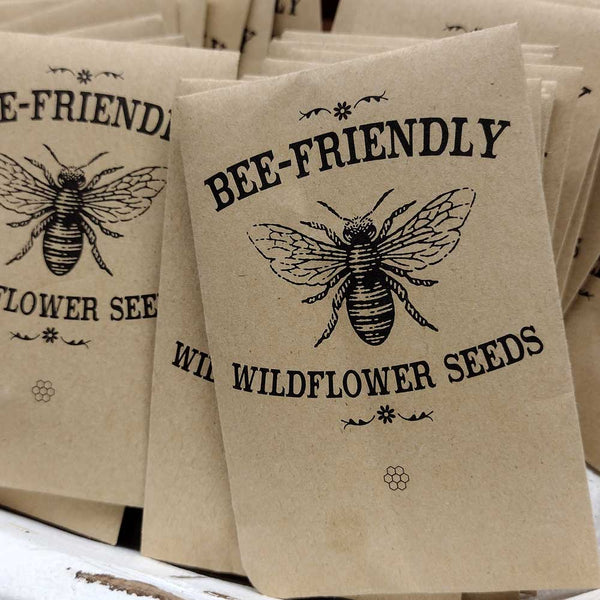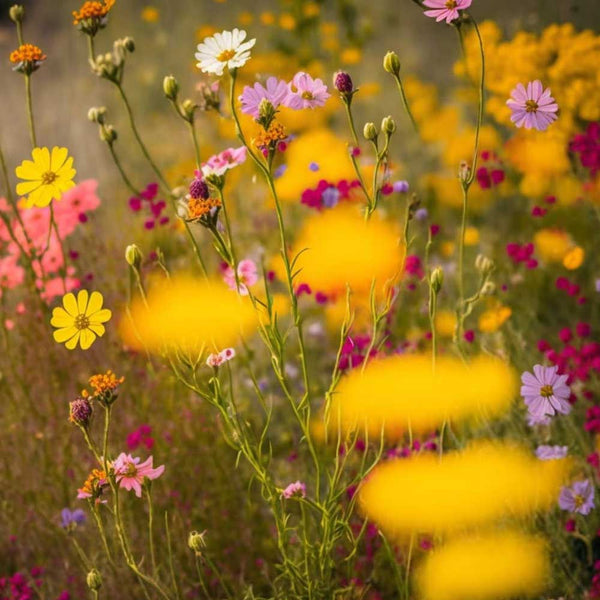 Plant the seeds for a better tomorrow!
These bee-utiful wildflower seed packets pack a powerful 150-seed punch! Kraft brown and 3.5" x 2.4" in size, they're ready to grace your garden & Save The Bees
INCLUDES PER PACKET
The single packet of wildflower seed mix will contain 150 seeds of at least 40 varieties of wildflowers.

All seed is non-GMO, fresh crop, with high germination. 

White Yarrow
Purple Giant Hyssop
Butterfly Weed
Smooth Aster
Calendula Pacific Beauty Mix
China Aster Single Mix
China Aster Crego Double Mix
Cornflower
Lance Leaved Coreopsis
Plains Coreopsis
Cosmos Gloria
Cosmos Purity
Sulphur Cosmos Bright Lights
Sulphur Cosmos Dwarf Lemon
Chinese Forget Me Not
Rocket Larkspur Imperial Giant Mix
California Poppy
Baby's Breath
Sunflower Chocolate Cherry
Ox-Eye Sunflower
Moonflower
Rose Mallow
Blazing Star
Spurred Snapdragon Northern Lights
Scarlet Flax
Blue Flax
Annual Flax
Four O'Clock Formula Mix
Bee Balm
Five Spot
Evening Primrose
Red Poppy
Smooth Penstemon
Rocky Mountain Penstemon
Mexican Hat
Yellow Prairie Coneflower
Grey Headed Coneflower
Clasping Coneflower
Black-eyed Susan
Upland White Goldenrod
African Marigold Crackerjack
Prairie Spiderwort
Crimson Clover
Zinnia Orange Oriole