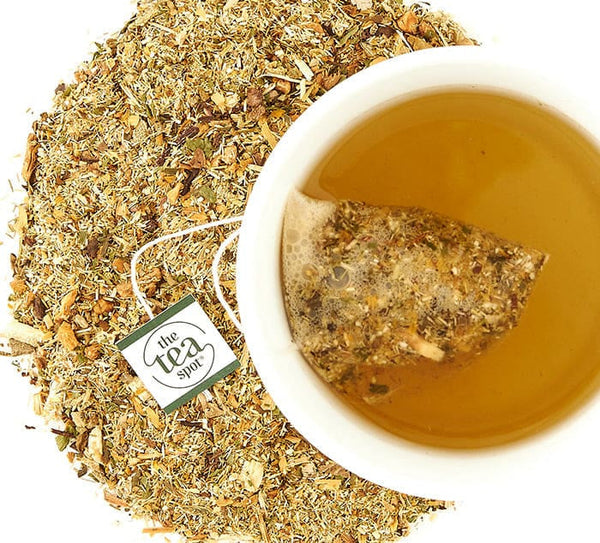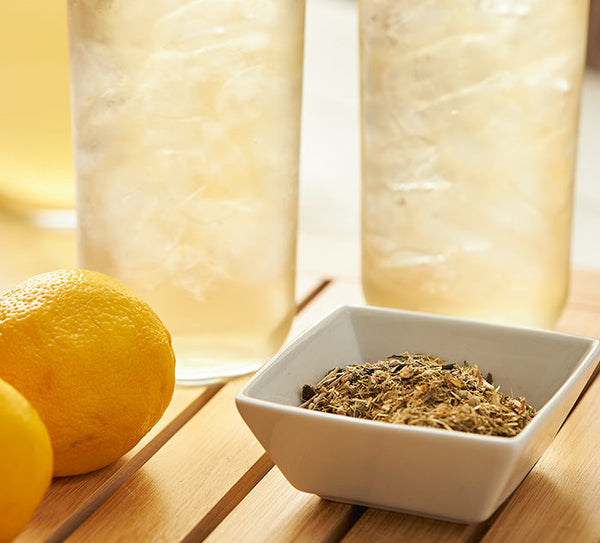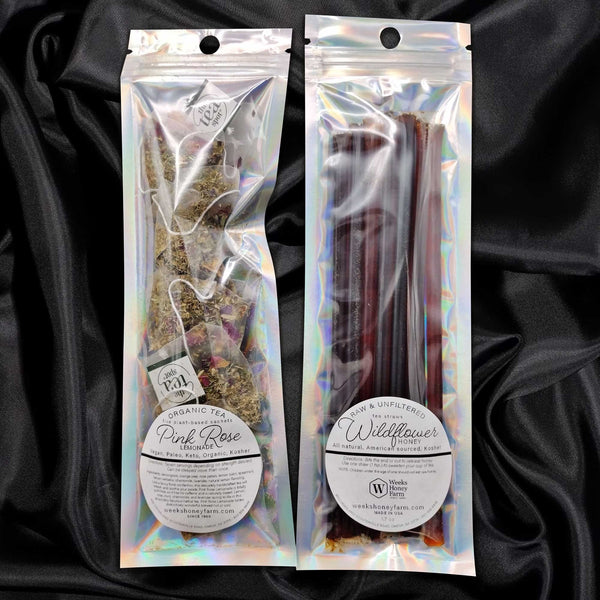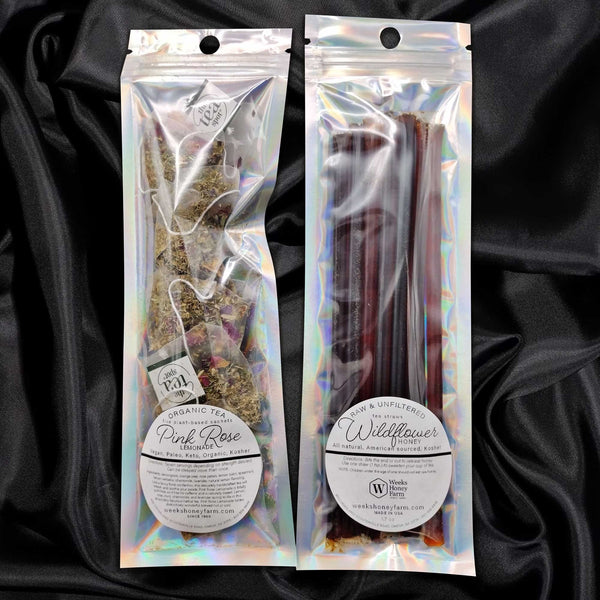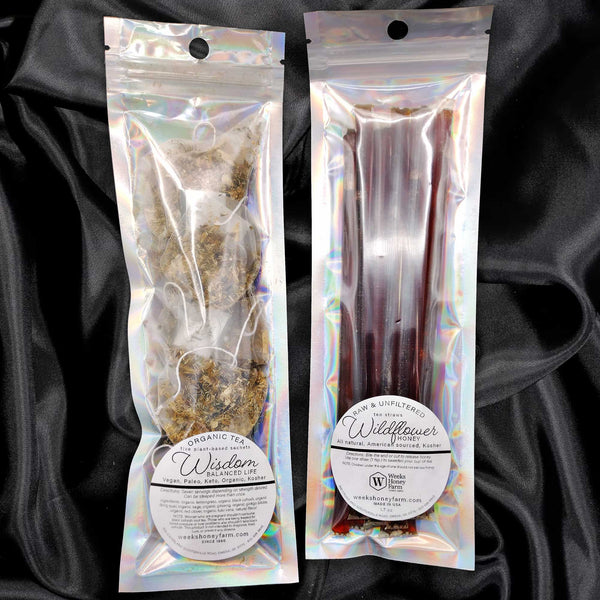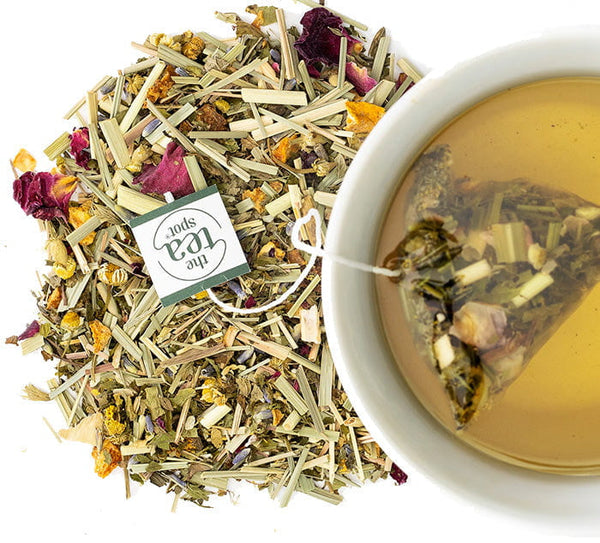 Perfect as a gift or a way to try our latest tea option!
Both items come in an air tight resealable pouch.
Wisdom, Organic Tea Sampler (5 Sachets)
Menopause and Peri Menopause Herbal Tea
Lifestyle-Friendly: Vegan, Paleo, Keto, Organic, Kosher-certified facility
100% Naturally Caffeine-Free
Ingredients: organic lemongrass, organic black cohosh, organic dong quai, organic sage, organic ginseng, organic ginkgo biloba, organic red clover, organic tulsi vana, natural flavor.
NOTE: Please consult your doctor before drinking this tea if you are pregnant or nursing. Women who are pregnant shouldn't consume black cohosh root tea. Those who are being treated for blood pressure or liver problems also shouldn't take black cohosh. This product is not intended to diagnose, treat, cure, or prevent any disease. Information is for educational purposes only.
Pink Rose Lemonade, Organic Tea Sampler (5 Sachets)
Pink Rose Lemonade is a swirling collage of flowers with a hint of lemon and wintergreen. Like a fancy floral confection, this delicately handcrafted tea will refresh and soothe your palate. Pink Rose Lemonade is totally guilt-free, as it has no caffeine and is naturally sweet. Lemon, rose, mint, chamomile, and lavender spring to life in this absolutely fabulous herbal tea. Pink Rose Lemonade tastes distinctively wonderful brewed hot or cold.
Features:
Premium Loose Leaf Herbal Tea
Similar to Twilight Rose
Sample ~ 5 servings
Lifestyle-Friendly: Vegan, Paleo, Keto, Kosher-certified facility
100% Naturally Caffeine-Free
Ingredients: lemongrass, orange peel, rose petals, lemon balm, spearmint, lemon verbena, chamomile, lavender, natural lemon flavoring
Earl of Grey, Organic Tea Sampler (5 Sachets)
Our Earl of Grey is a delightful and innovative take on the traditional Earl Grey tea, skillfully crafted for those who crave a unique and unforgettable sensory experience. Our master blenders at The Tea Spot have expertly crafted this captivating blend by harmoniously uniting the classic bergamot flavor with a carefully selected mix of citruses, vanilla, licorice root, and mallow flowers, resulting in a truly exceptional tea.
The alluring aroma of our Earl of Grey tea sets the stage for a delightful and satisfying experience. The deep liquor and well-balanced flavor profile provide a smooth, bright, and slightly creamy taste, setting it apart from the classic Earl Grey. By incorporating high-quality ingredients and precise blending techniques, we've created a tea that stands out and delights the senses. 
This tea takes its name from the British Prime Minister, Charles Grey, also known as Earl Grey, who served the United Kingdom from 1830 to 1834. While Earl Grey was renowned for his political contributions, including passing the Great Reform Act of 1832, today he might be best known for the tea named in his honor. Earl Grey tea, a distinctive blend of black tea and bergamot oil, has become a global favorite. Savor a part of history with every sip of our unique Earl of Grey blend.
Perfect for tea enthusiasts and those new to the world of tea, our Earl of Grey offers a distinctive and memorable taste that will leave you craving more. Available in various sizes, including bulk Earl Grey tea options, this premium blend is a testament to The Tea Spot's commitment to delivering exceptional tea experiences that satisfy the palate and provide a moment of pure indulgence. Embrace the captivating flavors of our Earl of Grey tea and elevate your tea time to new heights with this remarkable blend.
Features:
Vanilla Earl Grey de la Creme
Boasted Best Earl Grey Ever, by us!
aka Earl Gray by some =)
Tasty in lattes, cookies, & cocktails
Sample ~ 5 servings
Tin: 15 sachets
Bulk 1/4 LB loose leaf tea ~ 50 servings
Bulk 1 LB loose leaf tea ~ 220 servings
Lifestyle-Friendly: Vegan, Paleo, Keto, Kosher-certified facility
Caffeine: High
Ingredients: black tea, citrus rind, licorice root, mallow flowers, bergamot, citrus & vanilla flavoring
---
 Plant-Based Sachet Material:
Our sachet tea bags are made using a certified non–GMO sugarcane-based material called NeoSoilon® and do not contain any petroleum-based plastics. Our material is a plant-based alternative, obtained from sugarcane fibers, which is 100% biodegradable and compostable.
---
 Served With Each Tea
Weeks Raw Wildflower Honey Straws (10 Straws)
These premium honey straws are the perfect way to enjoy the taste of wildflower honey on the go! They're easy to take with you wherever you go, and make a great addition to any packed lunch or snack. Each straw is filled with delicious, 100% pure wildflower honey from Georgia.

• The honey straws are easy to use and allow for a mess-ree way to enjoy honey
• They are made with all natural ingredients and no artificial flavors or colors
• The wildflower honey is sustainably sourced from beekeepers who practice responsible beekeeping practices
• Perfect for on-the-go snacking or hot tea sweatening!
• Certified Kosher, Gluten Free